Many Parents choose to purchase equipment for their child as they progress and begin to develop as an Archer. Below is a list of equipment that you may find helpful.
Junior Olympic Archery Development Equipment List
Bow
W & W Kap Evolution Riser
$95.00
Limbs
W & W coment Evolution II
$100.00
Button
Shibuya dx plunger
$22.00
Cartel
$12.00
Arrow Rest
W & W Magnetic Rest
$9.00
Hoyt Super Rest
$3.00
Clicker
Cavalier extended Clicker
$27.00
Stabilizer
exe abs aluminum
$30.00
Sling
CR para cord finger sling
$3.00
Arrows
Easton XX75 Platinums
30.00
Easton Jazz
$40.00
Quiver
Big Dynamic Ultra lite
$15.00
Neet
$9.00
Tab
Wilson Black Widow w shelf
$10.00
Arm Guard
Cartel c505
$11.00
Neet n-2
$6.00
Case
Dynamic Take down recurve hard case
$35.00
Approx. Total Cost:
$405 – $477
---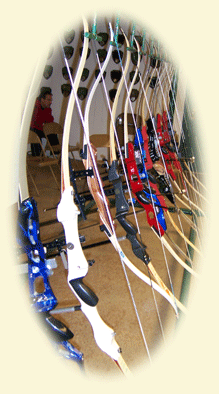 This list is intended for the young shooter who is ready to buy his or her own equipment. It is good equipment that will help the young shooter to develop his/her potential as an archer. If a child decides to drop archery , this equipment should hold its re-sale value better than a less expensive set. Equipment of a lesser quality may also hinder the shooting development of an archer.Hemlock Field Archers and the JOAD program have no vested interest in any of these companies. This is simply a suggestion for the parent of a young archer who wants to own good target equipment.
These programs are operated by:
Don Grenier – (717) 274-2450
Feel free to contact Dan for information on any youth archery questions.