Hemlock Archer's club was formed on June 5th, 1954 by six founding members. Roy Eckert was the first club president with other officers including Vice President Wilmer Ruhl, Second Vice President Vernon Leeper, Secretary Lindy Waltman, Treasurer Charles Waltman and Field Captain Claude Gibble. Six days later, the club was accepted into the Pennsylvania State Archery Association and held its first shoot on that day, June 11th 1954.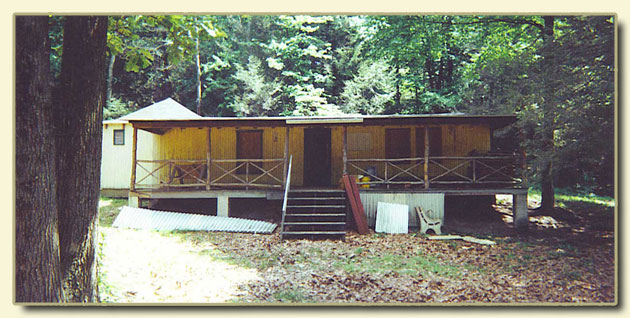 The Original clubhouse pictured above was a small building on property owned by the Bethlehem Steel Co. As the club grew, incorporation became advisable. This was accomplished on April 13, 1957.
For the first twelve years, illumination was provided by gas lights. In 1966, the club bought an electric generator and commercial electricity was eventually hooked up for the first time in 1969.
In July of 1972, an agreement was made to buy 81 acres of land from Bethlehem Steel Co. This land included the spot on which the original clubhouse was located.
In early 1976, a building committee was formed to begin the process of erecting a new clubhouse. Several plans were considered. A building fund was created and on June 11th, 1976 the building committee was given the green light to go ahead with the project. Every evening and weekend was considered "work days". Aside from excavation and laying the concrete blocks, all work was completed by club members. Between the summers of 1976 and 1977 the new clubhouse was built.
From the humble beginning of just a few members and a small clubhouse grew a well-respected club of over four hundred members. The Hemlock Archer's Club of today can be attributed to the dedication, hard work and love of archery by past and present members. As we head into the future, we must never forget what it took to build the historic club that is "Hemlock Field Archers".